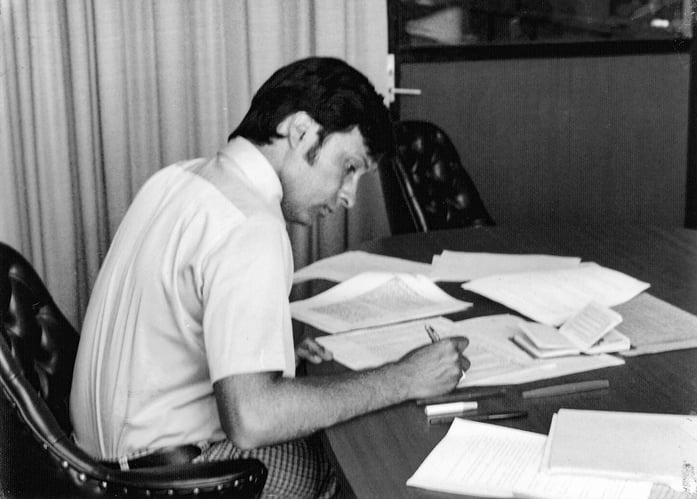 Alberto G. Mendez, Sr., our founder and longstanding president, passed away on March 16, 2022. The AMG that serves you today exists as the realization of Alberto's lifelong dream of becoming an engineer and stands as a testament to his decades of leadership, guidance, and mentorship within the company and the industries we serve. Alberto's deep professional knowledge and joy of serving others has left a profound impact on colleagues, clients, and friends around the country and the world, both inside and outside the field of engineering.
Alberto was only 23 years old when he came to the United States from Mexico. At the time, he was a young and eager employee of an engineering company, using his experience in design, construction and maintenance to assist a senior designer who had never been in the field. This was the start of a journey that would lead Alberto to return to Mexico to get married, move with his new wife to the United States, and found his own business.
Alberto started AMG as a design and drafting company but soon earned his professional license, officially making AMG an engineering company. His wife, Maria, was our first employee, serving as bookkeeper. Together, they worked out of the family garage. In the early days of the company, Alberto did all the drafting work with paper and pencil. When AMG first started using computer-aided design units, they weren't very sophisticated – work took longer to do on the computer than by hand. Today we render projects in photorealistic 3D and can walk clients through facilities using virtual reality.
When Alberto started, he focused on being a consultant for the corn industry – a market where his name and the AMG brand are now very well known throughout the world. Today, AMG does so much more, servicing clients in a wide range of businesses. We design and build systems for chemical processing, mineral processing, ethanol production, nutraceutical production, plastics, advanced composites, light and heavy manufacturing. Most recently, we've created a separate AMG entity, AMG Custom Controls, that designs and fabricates custom control panels for industrial and manufacturing facilities.
Alberto started AMG with the idea of creating a business that provided hands-on, client-focused designs. Over forty years later, AMG still embraces that hands-on, practical approach in all our work. From an ambitious designer with a drafting board in a garage to today's AMG with over fifty employees and offices around the country, Alberto considered it a blessing to serve, collaborate and grow with amazing people every step of the way. He was forever grateful for these relationships that developed in every facet of his business. Today, it is our privilege to continue the legacy of service and excellence exemplified by Alberto.