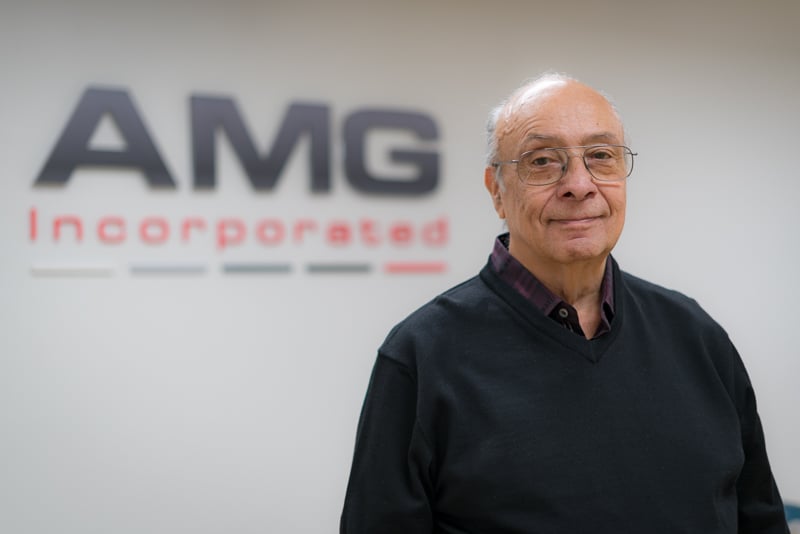 I was only 23 years old when I came to the United States from Mexico. I was a young and eager employee of an engineering company, using my experience in design, construction and maintenance to assist a senior designer who had never been in the field. Little did I know that it was the start of a journey that would lead to me returning to Mexico to get married, moving with my new wife to the United States, and founding my own business.
AMG stands for Alberto Mendez Gonzalez. Looking back today – exactly 40 years after I founded AMG – I couldn't be prouder of the company that bears my name.
I started AMG as a design and drafting company but soon earned my professional license, officially making us an engineering company. It's hard to believe that it's been forty years since I started AMG. My wife, Maria, was our first employee, serving as our bookkeeper. We worked out of our garage.
In the early days of the company, I did all the drafting work with paper and pencil. When we first started using computer-aided design units, they weren't very sophisticated – work took longer to do on the computer than by hand. But technology progressed quickly, and eventually we were making complex 3D designs using powerful computers and lasers instead of paper and pencil. Today we render projects in photorealistic 3D and have even begun walking clients through facilities using virtual reality.
When I started, I focused on being a consultant for the corn industry – a market where my name and the AMG name is now very well known throughout the world. Today, AMG does so much more. We service clients in a wide range of businesses – we design and build systems for chemical processing, mineral processing, ethanol production, nutraceutical production, plastics, advanced composites, light and heavy manufacturing, and, with our newest client, hemp. Most recently, we've created a separate AMG entity that will design and fabricate custom control panels for industrial and manufacturing facilities.
I started AMG with the idea of creating a business that provided hands-on, client-focused designs. Forty years later, AMG still embraces that hands-on, practical approach in all of our work. From an ambitious designer with a drafting board in a garage to today's AMG with over fifty employees and offices around the country, I have been blessed to serve, collaborate and grow with amazing people every step of the way. At our heart, we are a family business that values hard work, integrity, and innovation. Collectively, our values make trust and respect the hallmark of our relationships. I could not be more thankful for these relationships that have developed in every facet of our business over the last forty years.
To my family, friends, coworkers, mentors, supporters, clients, partners, and teachers – thank you.
Here's to another 40 years. Life is good.
Sincerely,
-- Alberto G. Mendez