Get to Know Tim
Tim is a Sr. Structural Engineer at AMG.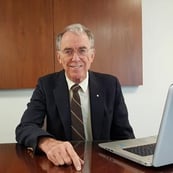 Tim is a Sr. Structural Engineer at AMG. He has been with the company for 25 years. Tim received a bachelor's degree from the University of Dayton in civil engineering and a master's degree from the University of Missouri in structural engineering. Tim says that his sense of accomplishment in life comes from two places: his family and his career.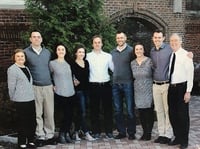 Tim has seven children with his wife. His wife was a software developer before she took a 20-year sabbatical to raise their family. She, like Tim and his father, received her degree from UD. Many of their children followed their path, with 4 of the 7 also receiving degrees from UD. Like their parents, many of them are in technical fields like mechanical engineering, software development, surveying, radiology, and three daughters who are medical doctors. They have two grandchildren.
Structural engineering has always been a passion. For Tim, "conceiving something in your head and then, seeing it in reality is very gratifying".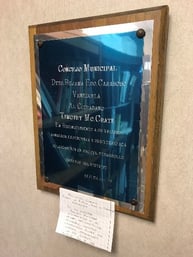 In Tim's office, many plaques line the walls showing his years of dedication in the field. In 1974-1975, Tim was in the Peace Corp in Venezuela. He was awarded the plaque to the left at a going away dance. He has his P.E. license in both Missouri and Ohio. Throughout his career, he became involved with many technical organizations to be able to learn from others in the field and to stay current in the industry. Today, he continues to stay involved with organizations like Kettering Rotary, the Knights of Columbus, the Structural Engineers Association of Ohio, and the American Society of Civil Engineers.
In the windowsills of his office, Tim likes to display some mementos that he has collected over the years from his favorite projects. Projects like the construction of the World's largest roller coaster in 1978, the Colossus. Below you can see some of the mementos Tim has from the coaster: a wooden column, sheer plates, and split rings. With a few renovations in 2014 and a new name, The Twisted Colossus, it still stands today, at Magic Mountain in Valencia, California.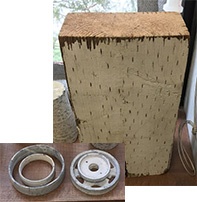 Tim also has some photos from his favorite projects on the walls. One favorite included a large mixer for a GM project. The propeller was 15 feet in diameter and created a huge vortex in the 3-million-gallon equalization tank. Tim designed the supporting truss for the project.
In his free time, Tim and his family enjoy spending time on their pontoon boat, cruising down the Ohio, Mississippi, Tennessee, Cumberland, and Missouri rivers. They have covered about 2800 miles in their trips so far, with nearly 900 more miles planned. Tim and all of his children are avid water skiers.